After a friend went to Steam Sia, she shared with me how enjoyable her experience was. As such, we decided to visit it!
When I heard the name, I thought that it is famed for it's steamed prawn dish or steam dishes. But, no. Rather, it serves Asian cuisines such as Nonya Chicken Curry, Assam Chicken as well as Western Dishes. It's like a fusion-themed place.
When you step into Steam Sia, you will feel like you have returned back to the 70s or 80s Singapore, where the restaurant is decorated with old-school decorations and vintage furniture.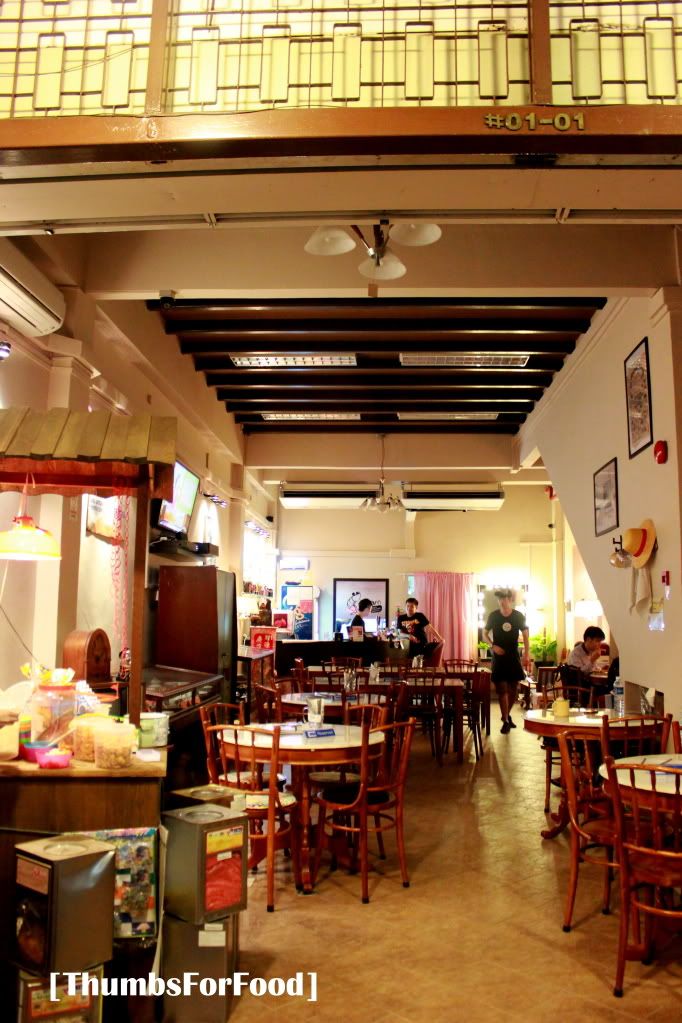 View of interior from the entrance
At the front of the shop, they have a table where they have old-school, childhood games that you can play with as well as, some snacks that we eat from
ma-ma
(provision) shops when we were young. The friendly staff in the shop shared that we can simply scoop whatever biscuits we like and help ourselves to the games! We were reminiscing about our favorite games like five stones and snacks like the wheel-shaped ones.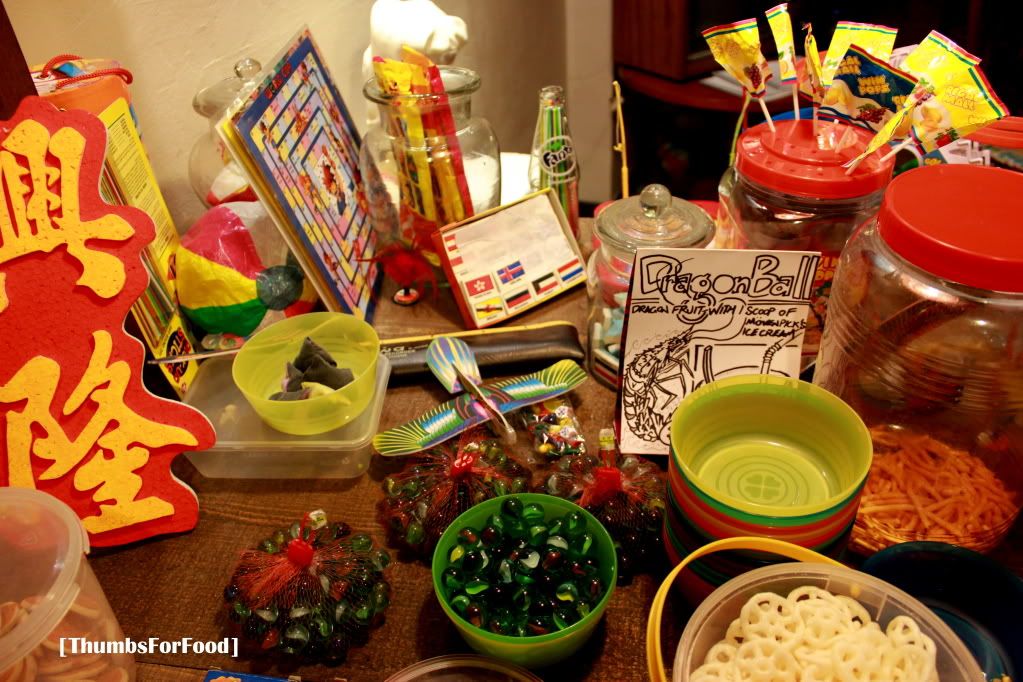 Old-school snacks and toys
For starters, we tried the Truffle Fries ($8.50). Well, we were quite disappointed because there wasn't much of a truffle taste. Probably, the fries wasn't fried evenly in truffle oil because some parts were rather bland while other parts have a subtle taste of truffle. I don't think I'll order it again.
We chose two dishes from the Asian Harvest Section because we didn't feel like eating Western styled dishes. Having heard much about it's
Nonya Chicken Curry ($10.90),
we decided to give it a try! It came served on a wooden chopping board-like "tray" and the curry and bread was placed in vintage bowl and plate. It really made us feel like we were back in the 80s! The dish was served with bread (baguette) and the bread was heated which was a plus point!
We were quite surprised that the serving was quite large as the curry consisted of Chicken Thigh and Chicken Drumstick! Awesome. And the curry, it was flavorful, fragrant and thick. For me, I found the coconut not too overpowering which was good for me. Love this dish and I'm craving for it as i'm typing this! What could be improved probably would be more curry sauce!
Nonya Assam Fish ($8.90)
was served with rice. I really like the sauce of the Assam Fish! Very appetizing. And the rice went well with it. On first taste, the fish tasted a little fishy, but, after eating more, the fishy taste mysteriously went away. We were guessing whether the fishy taste was covered by the gravy of the dish. Similarly, I would like more gravy to go with the rice.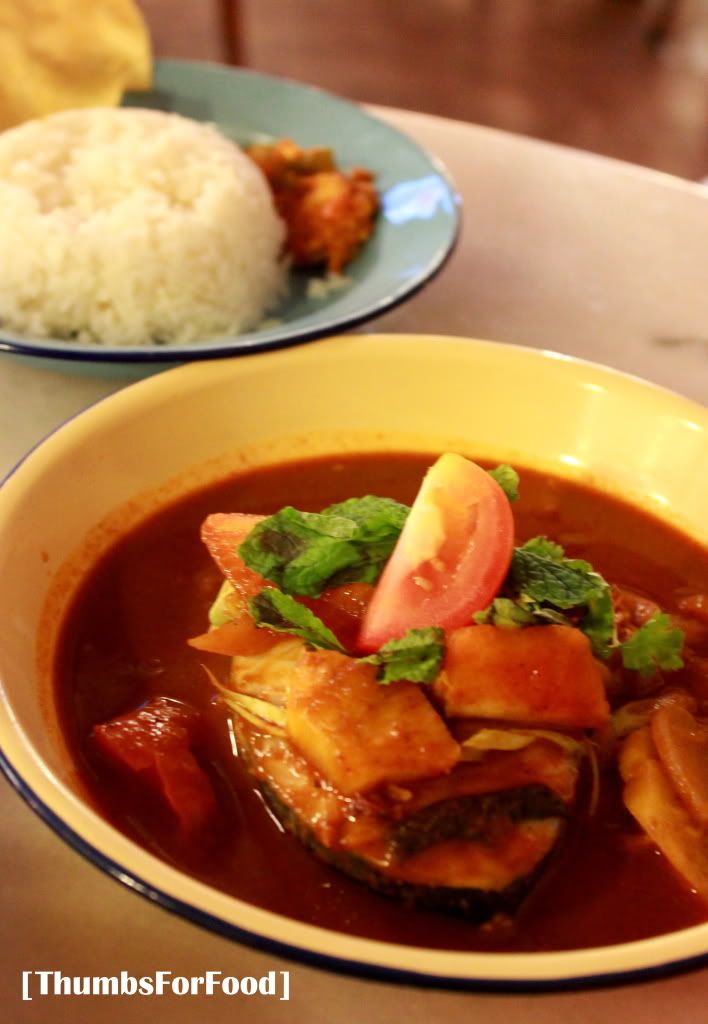 Nonya Assam Fish
They have a variety of different drinks. Being a float fan, I was delighted at their choices. We drank
Raisin Float ($6.90)
which consisted of Movenpick's Rum and Raisin and coke. Like it!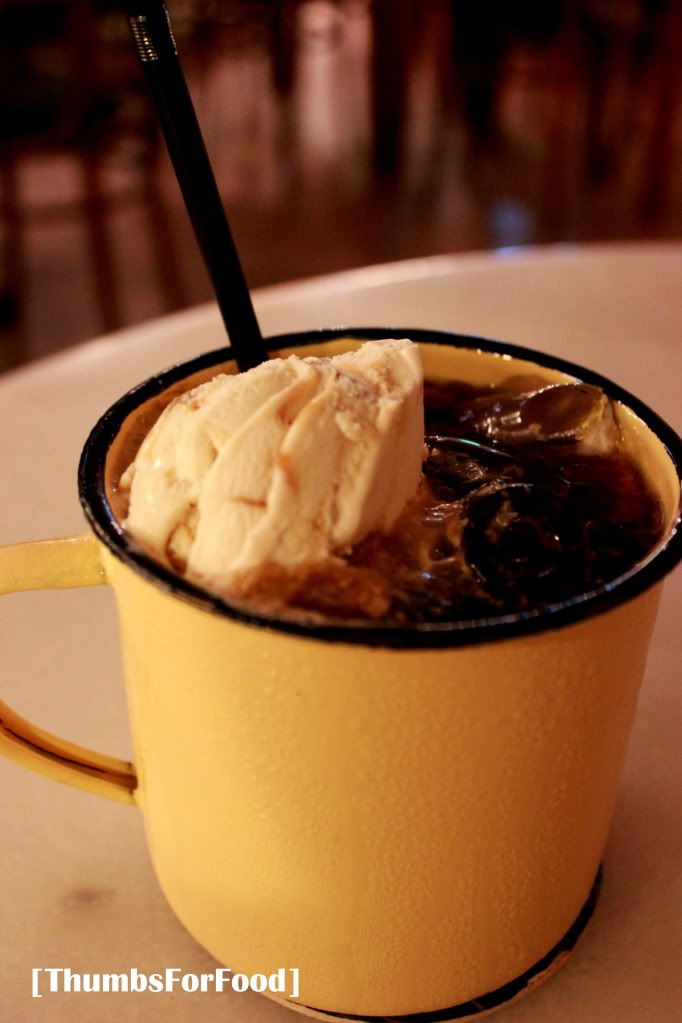 Raisin Float
We were too full to eat desserts after our mains and starter! (Too much carbohydrate!) Moreover, the portion was hearty! We would definitely like to try the desserts in near future. So, we ended our meal with a game of pick-up sticks. We ended up flicking the sticks off the table and laughed at our own silliness.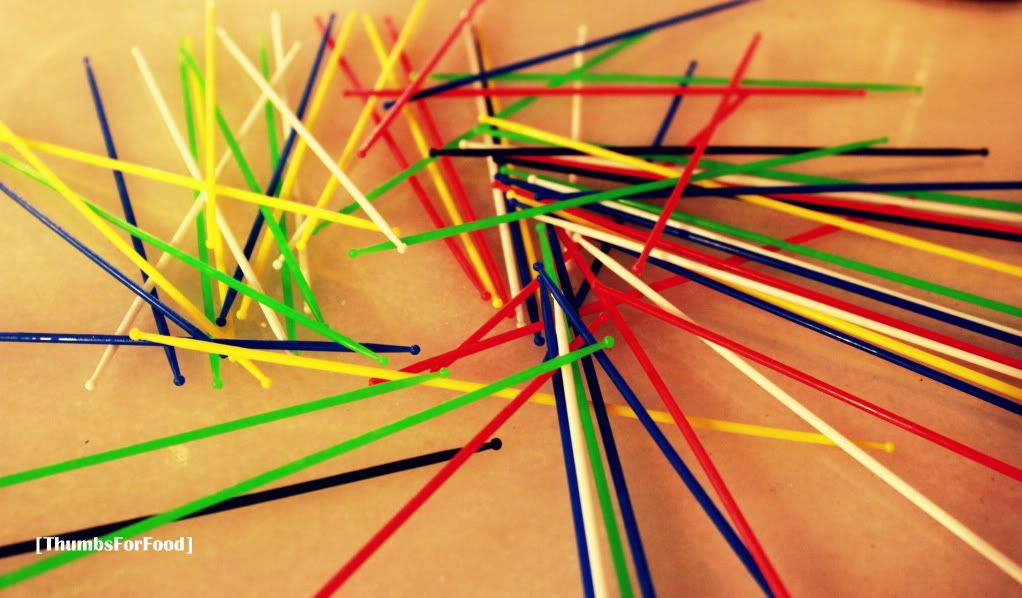 Game of pick-up sticks!
Overall, we enjoyed our trip to Steam Sia for a few reasons.
- Ambience was good as the theme was consistent and we felt relaxed and comfortable. (not exactly a romantic place, but couples can have fun bonding and playing the childhood games together)
- Friendly staff who shared with us the reason why it is called Steam Sia (ask them yourself!)
- Food had some misses, but, mostly hits with reasonable prices and hearty portions.
Remember to like the Facebook Page to check out their monthly promotions. When we were there, there was a 15% discount for the month for those who like their Facebook page and check-in using Facebook. Also, look for their lunch promotions as well. Will look forward to our next trip.
Our Rating: 8/10
Must Tries: Nonya Chicken Curry, Net Catch (Strongly recommended by friends who went there; will try next time)
5 Hindoo Road
Singapore 209107
Tip: Use google Maps to navigate from Farrer Park/Little India
http://www.steamsia.com/
Opens daily from 12pm-12am
6396 6585
Love, Y